Since 1941, Simm Engineering Group have been well known for air compressors in Sheffield. But it has always been more than just air compressors for Simm Engineering Group. Their focus is on keeping customer systems working efficiently from the plant room to the factory floor. This whole system approach includes air treatment, pipework, vacuum pumps, nitrogen generators, chillers, pneumatics and more.
At the end of June, Simm Engineering Group relocated to Dinnington, Sheffield in a move that will help them to upgrade their customer support.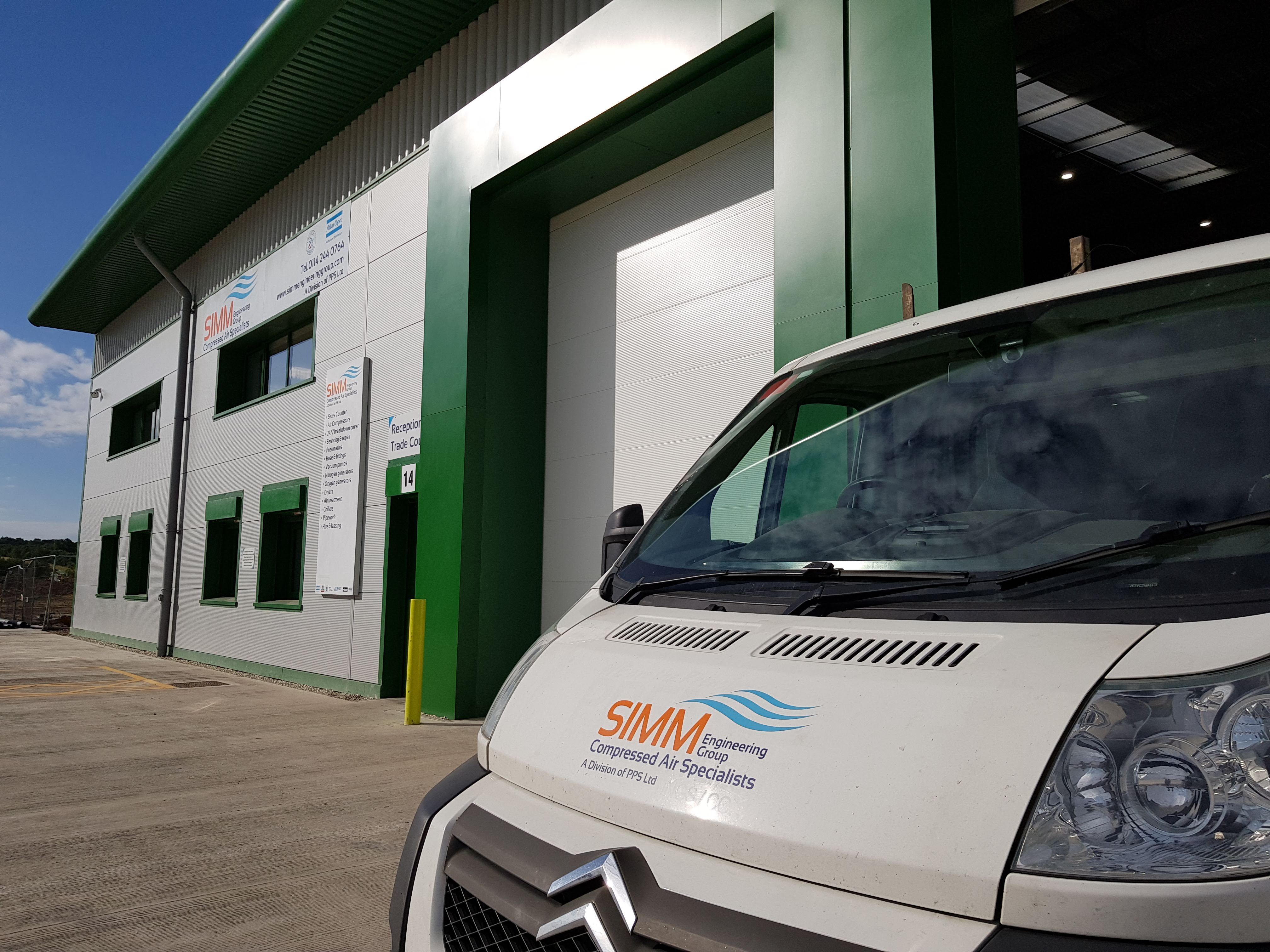 A move to benefit customers
The new unit, fitted specifically for Simm Engineering Group, means they can do more for their customers.
With more space to hold stock for the pneumatics trade counter, they are shortening customer lead times for things like air compressor parts, accessories, air tools, cylinders, pipework, pneumatics and valves.
A larger warehouse also means Simm Engineering Group can extend their hire fleet, ready to support a customer when the unexpected happens or for longer term solutions. They offer fast and efficient hire and leasing of Atlas Copco air compressors, vacuum pumps, nitrogen generators and other machinery.
Technical support and training are areas that can now grow with the new space. Training that has previously only been available at the head office location in Brighouse can now be carried out in Sheffield with the PPS and Simm Engineering Group Technical Trainer, Andy Kershaw.
"This is a real springboard into a brand-new era for Simm Engineering Group. We are ready to push on with what we do best, delivering a one stop solution for compressed air equipment, installations, pneumatics, vacuum, chillers the list goes on. The new environment has already had a really positive effect on our team, and before we were properly moved in, we had hire machines going out to Sheffield customers - a brilliant start from our new location."
Alan Kerr, General Manager (Simm Engineering Group)
A move to benefit staff
The Simm Engineering Group team are keen to get settled in at the new offices. Bright spaces and a modern canteen space plus showers and changing rooms will help promote positive wellbeing among the hard-working team.
"A relocation for Simm Engineering Group has been pivotal in helping us to provide improved customer service and massively improved facilities for staff. It has been in the pipeline for the last couple of years, it was just about finding the perfect location and the new unit at Dinnington ticks all the boxes. We are proud to be investing in Sheffield."
Ian Harrison, Managing Director, Pennine Pneumatic Services Ltd and Simm Engineering Group
Where to find Simm Engineering Group
Their new address is:
Simm Engineering Group, Units 14 & 15, 31 East, Todwick Road, Dinnington, Rotherham, S25 3RF
Phone numbers and email addresses remain the same:
0114 244 0764
[email protected] / [email protected]